Regular price
Sale price
Rs. 640.00
Unit price
per
Sale
Sold out
Share
Supplement with natural ingredients aimed to help your body's immunity!
Herbal Immunity Supplement
Help Your Core Immune System
A strong immune system can help avoid various viral and bacterial infections. In addition to balanced nutrition, the consumption of certain nutrients enhances the overall immunity and health of an individual.
Purayati's Herbal Immunity Supplement, contains traditional ingredients like garlic, ginger, turmeric, ashwagandha, Panax ginseng, Guduchi, Amalaki, and beta carotene to increase your immunity and keep you away from infections.  
Key Ingredients
Garlic - An excellent anti-oxidant that enhances the effectiveness of antibacterial medications. It also contains antibiotic and antifungal properties.    
Ginger - Packed with bioactive compounds, it aids in fighting chronic and deadly diseases. Also functions as a stress-relieving agent and controls DNA damage. 
Turmeric - Has an active ingredient called Curcumin. It has powerful anti-inflammatory effects and is a very strong antioxidant. Its natural curing properties help lessen severe joint pain and prevent carcinogenic substances from entering your body. 
Ashwagandha -  Used largely in ayurvedic medicine, this herb significantly enhances the activity of white blood cells, which are the fighter cells responsible for your immunity. 
Panax Ginseng - A medicinal herb used widely in Eastern Asia, it effectively controls bacterial, viral, and auto-immune infections. As per one study, regular consumption of ginseng for five years can enhance 35% of chances of living a disease-free life.
Gaduchi and Amalaki -  Used as an anti-inflammatory ingredient in Indian medicines, it is said to effectively reduce respiratory infections like tonsils, cough, and flu. Amalaki has an abundance of vitamin C which makes it a powerful antioxidant and may help improve your immune system. 125mg of Guduchi and Amalaki has been added to the Herbal Immunity Supplement.
How Purayati's Herbal Immunity Supplement May Help you? 
 Makes the immune system stronger
 Acts as an antibiotic and an antioxidant
 Boosts the activity of white blood cells
 Antiviral properties protect from infection
Anti-inflammatory properties reduce respiratory infections 
Who can use it?
Men
Women
Teenage girls and boys
Students
Elderly
Children
Anyone who wishes to increase their immunity
Take one tablet daily with a meal. This supplement does not claim to cure any viral or bacterial disease.




View full details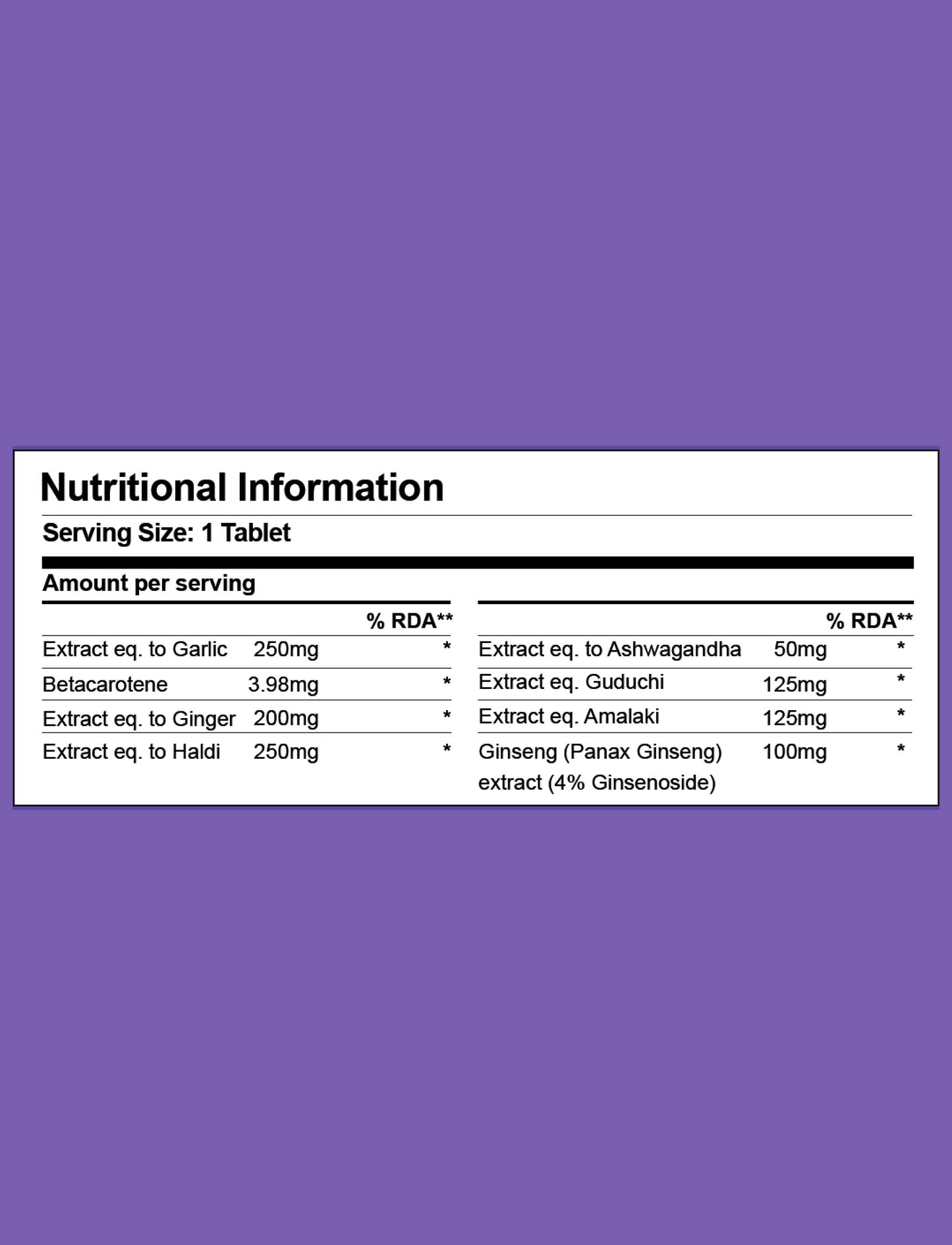 Good Product
I have used since 7days, best result and i got this product for best price at page GrabOn.
Good product with balanced natural ingredients
Recommended by Doctors

(And Other Healthcare Professionals)
Good Product
I have used since 7days, best result and i got this product for best price at page GrabOn.
Good product with balanced natural ingredients