Regular price
Sale price
Rs. 790.00
Unit price
per
Sale
Sold out
Share
Advanced Multivitamin for Men
Better Health for Men
Purayati's Advanced Multivitamin for Men is a blend of all the essential vitamins and minerals that can meet the need to fulfil your unfulfilled share of nutrition. 
Ingredients:
Elderberry
Ashwagandha
Grape Seed Extracts
Fenugreek
Brahmi
Shatavari
Choline
Biotin
Inositol
Vitamin A
B complex Vitamins - B2, B3 and B6
Vitamin C
Vitamin D
Vitamin E
Magnesium
Zinc
Calcium
Folic Acid
Copper
Selenium
Lycopene
Zeaxanthin
How Purayati's Advanced Multivitamin for Men May Help you? 
Boosts Immunity 
Lessens allergic symptoms
Improves blood circulation and enhances heart health
Lowers blood pressure
Enhances vision
Makes nails and hair strong
Prevents baldness due to ageing
Hydrates skin
Increases bone density
Speeds up metabolism and lessens inflammation
Helps in reducing depression 
 Who can use it?
Men
Teenage boys
Senior Citizens 
Men suffering from baldness
Anyone who wishes to improve your overall health
Take two tablets daily to get full health benefits. This supplement is not a replacement for food or medicine, and does not claim to cure any illness or disease.
View full details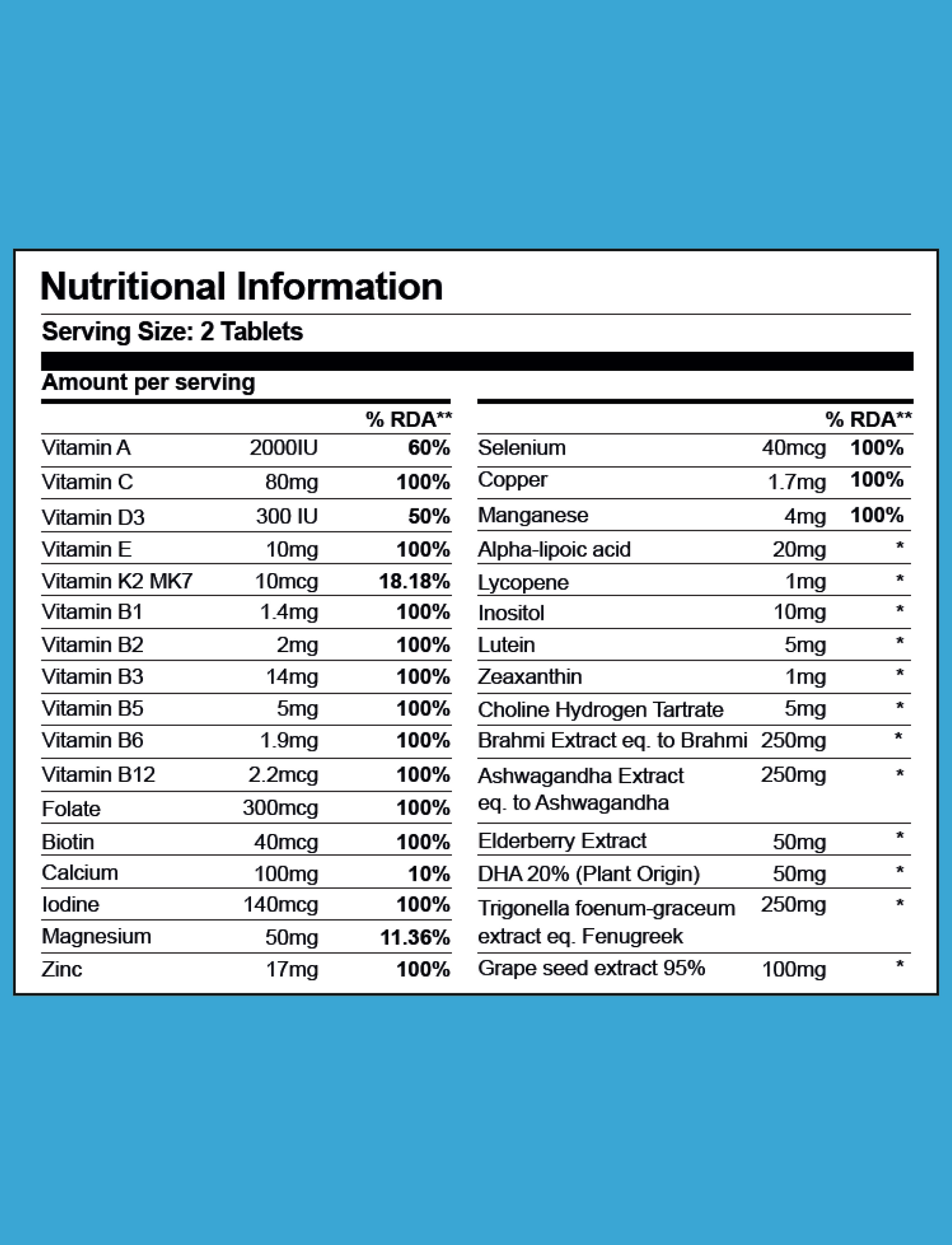 Types of minerals added not mentioned
Three stars for types of minerals not mentioned clearly for example type of zinc,calcium,magnesium,copper,selenium etc.. types of vitamins also not clearly mentioned so kindly email me the complete detailed description of the nutritional information so that I can go through it and buy!! I like the fact that it contains folate instead of very bad not recommended to take cheap folic acid also the natural herbs is very impressive
fishy smell
The product smells of fish
Multivitamin for Senior Men (90 Tablets)
Recommended by Doctors

(And Other Healthcare Professionals)
Types of minerals added not mentioned
Three stars for types of minerals not mentioned clearly for example type of zinc,calcium,magnesium,copper,selenium etc.. types of vitamins also not clearly mentioned so kindly email me the complete detailed description of the nutritional information so that I can go through it and buy!! I like the fact that it contains folate instead of very bad not recommended to take cheap folic acid also the natural herbs is very impressive
fishy smell
The product smells of fish
Multivitamin for Senior Men (90 Tablets)